Call of Duty: World at War (also referred to as Call of Duty 5) is a first-person shooter, developed by Treyarch.
The campaign was based in World War II, with an American and Russian protaganist, each with different
Call of Duty: World at War

Call of Duty: World at War cover art
Developer(s)
Treyarch
Publisher(s)
Activision
Genre(s)
First-Person Shooter

Game Modes

Solo Campaign, Co-op campaign, Multiplayer, Nazi Zombies
Platform(s)
Xbox 360, PC, PS3, DS
Add-ons
Map Pack 1, Map Pack 2, Map Pack 3
Release Date
November 11, 2008
campaigns. The American is Pvt. Miller, and the Russian is Pvt. Demitri Petrenko.
Pvt. Miller is the American Protaganist, and is saved from (after being M.I.A. in) Makin Atoll From there he, Sgt. Tom Sullivan, Cpl. Roebuck (later Sergeant after Sgt. Sullivan is K.I.A.) and Pvt. Polonsky. The Russian, Pvt. Demitri Petrenko, starts in Stalingrad, Along with Sgt. Viktor Reznov, and Pvt. Chernov. Finally, The Russian campaign ends with the attack on Berlin and the planting of the Russian flag on top of the German Reichstag.
Multiplayer
Edit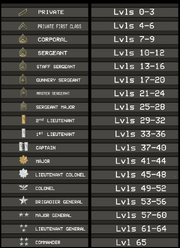 In the Multiplayer portion of the game, the player might rank up depending on how much XP the player gained. once the player reaches level 65, the player can Prestige, in which case this reverts your lvl back to 0.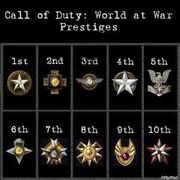 For each new prestige you gain, you may get a new Create-a-Class slot or Gamer Picture. New weapons can be used, and challenges can be completed to gain extra XP. Also, you must be a certain level or prestige to do/use certain things (Create-a-class, different weapons, perks, etc.).
Nazi Zombies
Edit
Nazi Zombies was originally introduced for Call of Duty: World at War with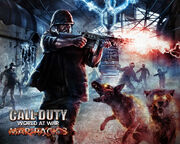 one map, Nacht Der Untoten (German for "Night of the Undead) which was a game mode that could be played solo, or with friends. It turned out so popular, Treyarch introduced Map Pack 1, with a new Nazi Zombies map, Zombie Verruckt (Zombie Asylum), Map Pack 2, with Shi No Numa (Swamp of Death) and finally, Map Pack 3 with Der Riese (The Giant).